Barge & Vessel
Loading & Unloading
Campbell River Marine Terminal is open to all marine carriers. We have 4 bulkheads that provide all tide access and have transition plates for a smoother ride on and off the vessel.
Barge & Vessel
Loading & Unloading
Advanced prior notice and booking of the bulkhead is required.  Just call to reserve the spot for as long as you need it.   
Marine Carriers can call to make arrangements for terminal staff to load or unload for you. Terminal services feature a range of forklift services including rough terrain, tractor truck hostler, mobile crane and all associated trained personnel and labour requirements.
The Terminal can handle barges up to 2000 tons.
We ask that all carriers tie up and secure their vessels at the bulkheads.  Skiff assistance can be provided if needed.
After hours access is available upon request.
Marine Carriers
that frequent the bay
Most of our moorage is long term but daily rates are available. Power and water is available for an extra charge.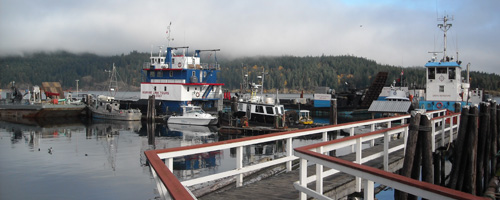 Beautiful Menzies Bay provides a safe harbour and the Terminal can provide tie ups of vessels up to 200 feet in length. 
Crew heading to a remote location can safely park their vehicles at the Terminal in designated areas.   Crew Boats are welcome to access the bulkheads to load and unload supplies. After hours access is available.